ABOUT US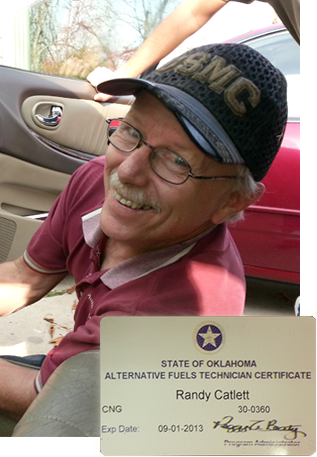 Randy Catlett is owner and founder of CNG Fleet Specialist and has over 25 years of experience in the alternative fuel industry. He's a State Certified alternative fuels technician and his experience in the field has made him a sought after teacher in technical schools. After his service in the United States Marine Corps where he worked as a welder, Randy entered the work force doing what he enjoyed most, creating and fixing things. He was a Crew Chief on a Modified Stock Car in California and a Crew Chief on a IMCA in Oklahoma. He owned several traditional auto repair services in his 30 year career, and his service and experience in fabrication served him well. He is well versed in all types of welding and fabrication techniques and can retrofit any vehicle with a fuel efficient CNG system to the precise specs to give your vehicle a long, fuel efficient life.
The CNG Specialists facility can handle up to 6 vehicles at a time, allowing us to outfit your fleet in record time. We use only State certified technicians to approve all work as it is installed, making sure it meets all State and Federal regulations for proper installations. Our shop is open Monday through Friday, 8:00AM to 6:00PM. We also offer a pick up and delivery service to accommodate your fleet schedule.
The field of alternative energy in America has been an uphill battle.  For many years the cheap supply of oil from the Middle East has made us dependent on gasoline. This created a market that, until now, has been our only source of cheap fuel.  Randy's desire to see our nation become energy independent has motivated him to continue in the field of alternative fuels for over 25 years. His commitment to the industry is unparalleled among his peers.